Jogja is a fairly comfortable tourist destination. There are many tourist attractions that hits and the tickets are quite cheap. Not only that, the culinary variety is also delicious, the atmosphere of the city is also romantic. Wow, a vacation to Jogja has its own happiness
One of the unique and most popular destinations in Jogja is Gumuk Pasir Parangkusumo . Sand dunes seem to take you to the Middle East, with a vast sea of ​​desert.
There is also a cute photo swing place that makes your photos instagramable photos.Let's see this Sand Gumuk. If you go to Jogja don't forget to stop by.
# 1.

 Located on the south coast of Bantul, Gumuk Pasir Parangkusumo offers the sensation of a unique desert vacation. 

The location is not far from Parangtritis beach
# 2.

 

Large sand dunes are usually used to play sandboarding.

 

Skating with a board on the sand is really exciting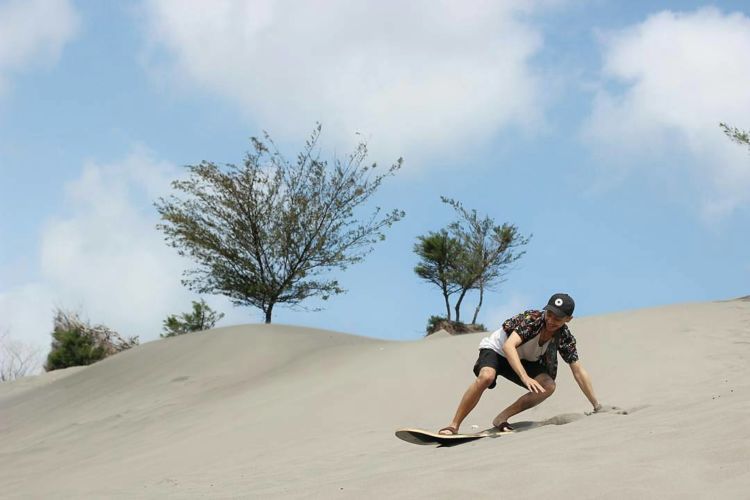 # 3.

 

The swing provided there is perfect for photos with a partner.

Already many couples have photos here when are you Blo?
# 4.

 

This destination is quite popular in Jogja.

 Many travelers are willing to go far too hot for tours in Gumuk Pasir and take pictures
# 5.

 

You who want to get married can just do prew here.

 

Use the concept of the film Aladdin and Jasmine.

 

Hehehe
# 6.

 Try to rent a camel at Gumuk Pasir . 

Really very similar to the Middle East
# 7.

 

The sunset here is very beautiful, so it's best to come in the afternoon.

 

The trip from Jogja is about 1 hour with a distance of 30 km
# 8.

 

Not only the sea of ​​sand, there are also colorful flowers with the theme of the Garden of Love 1000 Flowers.

 Garden Love 1000 Flower Spot looks very beautiful if you take pictures using a drone. 

From a height, you will see a form of full love
Originally posted 2019-08-02 15:14:48.